Apple has shown that a series of little upgrades over time adds up to big changes in the future. So what's on tap for the iPhone's 10th anniversary?
Go ahead. Yawn at the iPhone 7 and iPhone 7 Plus.
Or dig a little deeper, and maybe you'll perk up at some tantalizing clues to the future of the iPhone.
You see, there may be more to Apple's latest phone than just a carbon copy of the iPhone 6 and 6S with a few ho-hum upgrades. Let's look first to the past for some insights.
The introduction of the original iPhone in 2007 and the App Store the following year marked dramatic leaps forward in the world of mobile devices. Apple really hasn't had breakthrough moments like that since then. Its track record over the last few years shows a slow amassing of features over several generations that contribute to something bigger down the line.
Just look at Passbook, a minor app introduced in 2012, and the TouchID fingerprint reader introduced in the iPhone 5S a year later. Apple used those two elements to power its Apple Pay payment system, introduced in the subsequent iPhone 6. Siri, the digital voice assistant unveiled in 2011, is just starting to show her true potential as she works with HomeKit and an increasing array of apps.
If history repeats itself, the new elements of the iPhone 7 — the new static "button," the dual-lens camera on the 7 Plus and, yes, even the move away from the headphone jack — may prove to be the foundation for some bigger changes ahead for next year's iPhone. If you're not happy with this year's edition, Apple's big 10th anniversary iPhone could be where the company pulls out all the stops.
So sit back as we attempt to read the tea leaves left to us by the iPhone 7 and 7 Plus.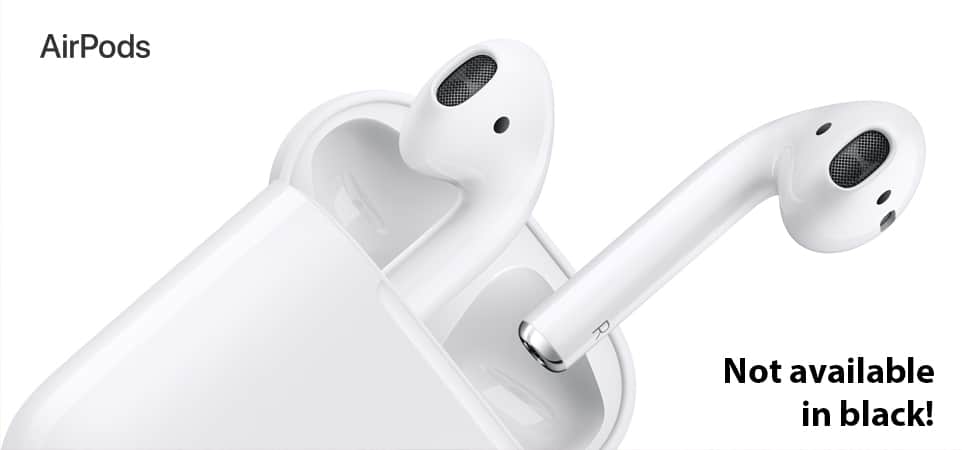 A totally wireless iPhone?
No headphone jack? What about no wires at all?
One of the big points that Phil Schiller, Apple's marketing chief, tried to convey to audiences at the iPhone 7 launch event last week was the push toward a greater number of wireless experiences.
"Up till now, no one has taken on the challenge of fixing the things that are difficult to do in your wireless experiences," Schiller said onstage. "It makes no sense to tether ourselves to our mobile devices."
Though Schiller was talking about the wireless AirPod earphones, that comment could be taken as a mission statement of sorts for the entire device. Between the AirPods and the removal of the headphone jack, Apple is forcing your hand to give up on wired headphones — or at least consider it.
That may be just the beginning. Next year's iPhone could do away with the last physical wire: the Lightning cable needed for charging. Yes, Apple may finally embrace wireless charging, a feature found on other marquee devices, like Samsung's Galaxy S7.
"All the talk about wireless at the event definitely signals a future intent to move to wireless charging," said Jan Dawson, an analyst at Jackdaw Research.
The Apple Watch already uses a form of wireless charging. And the Qi standard, embraced by the likes of Samsung, already drives wireless charging stations in thousands of public spaces and 50 models of cars. Those stations are just waiting for an iPhone.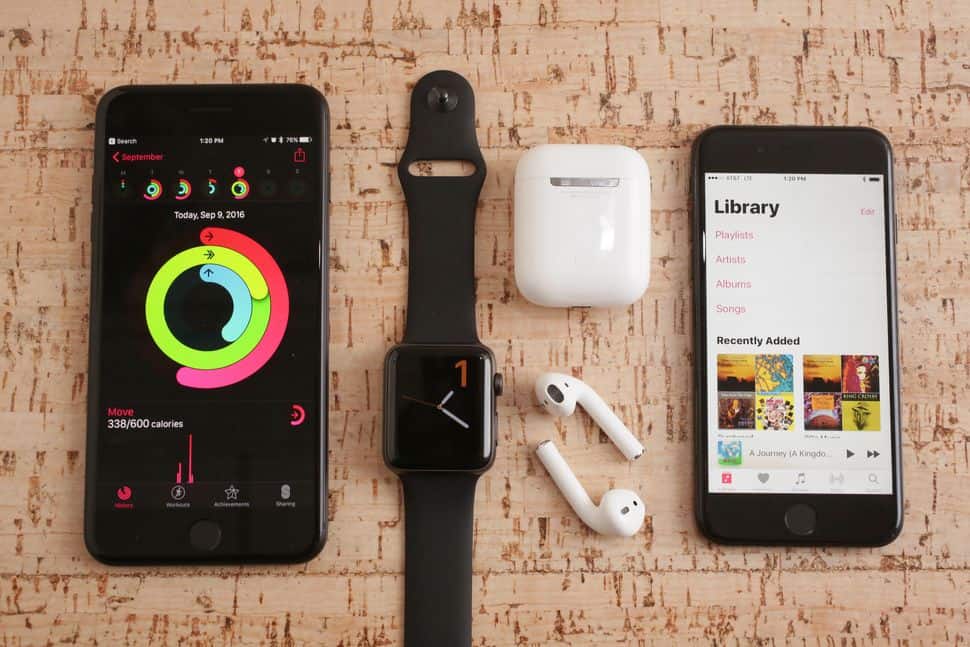 Apple's lineup, between its wireless charging Apple Watch and new AirPods, hints at a life with fewer cords.
Better Bluetooth
Bluetooth 5, meanwhile, promises to quadruple the range and double the speed of existing Bluetooth technology. It may be the answer to those skeptics who still shun wireless headphones. With Bluetooth 5, those headphones should work more reliably.
The new version of Bluetooth, which could come as soon as this year, could also mean more things in a home being paired, or faster communication with the Apple Watch.
WiGig, meanwhile, is another intriguing wireless standard promising extremely high speed, shorter-range connections that can be used for 4K video streaming, sending data to second displays and syncing. Could a short- and long-range wireless overhaul let a future iPhone seamlessly connect to even more devices?
Finally, no more home button
The iPhone 7 has a home button. Kind of.
It's really just a circular indentation. It doesn't click at all. It's a phantom button. It provides a simulated click when pressure is applied, via haptics, like Apple's recent MacBook trackpads and the Apple Watch.
It's not a far reach to see that button go away in favor of controls moving on to the screen. The haptic feedback beneath the iPhone — introduced last year with 3D Touch — could mean that any part of the device could make for a virtual home button. As early as last year we had our suspicions that Apple was setting up this move with the iPhone 6S.
No home button means you can cram a larger display into a smaller body.
"People do not want a bigger phone, they want more screen," said Carolina Milanesi, an analyst at Creative Strategies.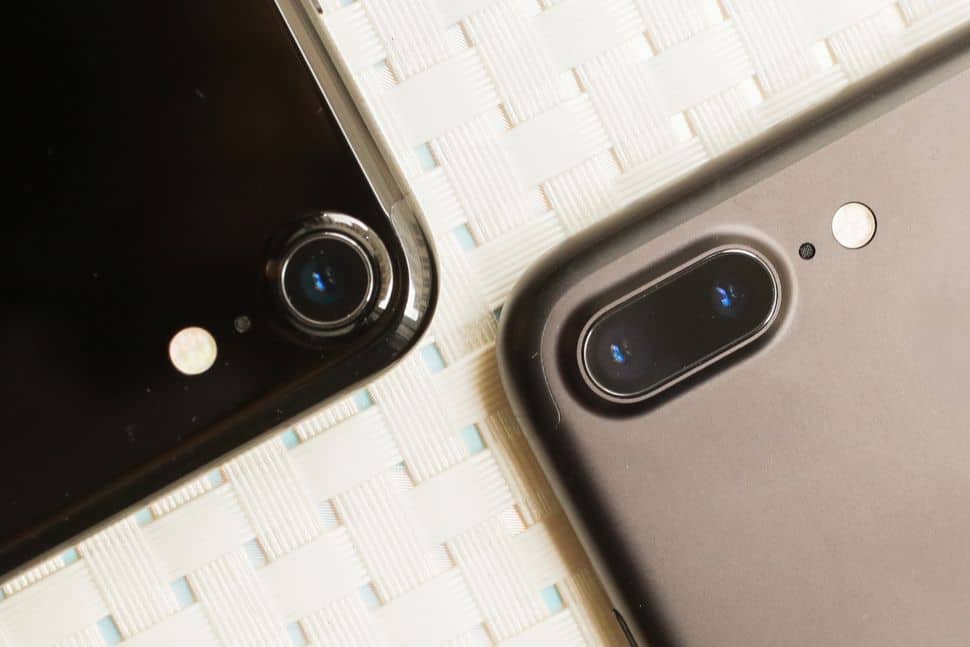 The iPhone 7 Plus's dual-lens camera system may open the door to more capabilities.
Augmented reality via cameras: Apple's version of Google Tango
Dual-lens cameras aren't just for zoom photos. Two cameras mean depth sensing, 3D, and a lot more.
Apple's Tim Cook keeps talking about augmented reality, this week saying it's more important than virtual reality. A logical step for an upcoming iPhone with a dual-lens camera is to let the device scan the world and overlay 3D objects onto it with high accuracy.
Why do this? Google's Tango technology uses an advanced array of depth-sensing cameras to map indoor spaces. Augmented reality could let you shop for virtual furniture and place those items in a room, with the objects staying in place as you move around them.
Photogrammetry, which involves scanning objects and spaces into photo-realistic 3D models, means literally scanning reality. You may be able to turn those cameras on to 3D printing and virtual-reality applications. The next iPhone could find killer ways to employ this.
Or, it could focus on fun applications. Augmented reality has already arrived in your hands, after a fashion, in Snapchat's impressive 3D face filters. It's had its breakthrough pop culture moment in Pokemon Go. Apple could find killer app partnerships that make this sometimes-obscure tech seem a lot more accessible. Think a handheld superscanning magic camera, not something you strap on your head.
One last thing…
Apple may have dropped another hint with its new Apple Watch. The premium version of the Watch will be made of ceramic, which the company boasts is four times tougher than stainless steel. Will the next iPhone use the same kind of material?
The Apple Watch was the first Apple product to use the taptic engine, which powers the 3D Touch and home button on the iPhone 7. Perhaps a ceramic Apple Watch serves as a test run for the next iPhone?
There you have it. The clues are out there. Tune in this time next year for whatever surprises Apple has in store.
Until then, make your peace with the iPhone 7 and 7 Plus.